Are you looking forward to cooking baked potatoes with your oven? If yes, we are happy to inform you that an oven can cook a perfect baked potato if you follow the right procedure. The cooking process for this involves having the right ingredients and knowing the cooking procedure. One of the important things worth nothing when it comes to the procedure is how long to cook baked potatoes in oven.
Nothing compares to a well-baked potato. If you own an oven, you have no reason not to cook these potatoes. But make sure you allow them to cook for the right time. Luckily, we did a thorough test to find out how long baked potatoes should cook for excellent outcomes. We found this depends on several aspects, as specified below.
Oven Temperature– When you bake your potatoes at a higher temperature, they are going to take less time than those baked at low temperatures.
Potato Size- Smaller potatoes cook faster than larger potatoes.
Oven Type– A convection oven that uses forced air cooks potatoes faster than the regular one.
Baked Potatoes Cooking Time Table in an Oven
| | | |
| --- | --- | --- |
| Oven Temperature | Medium Potatoes 3-4 Inches | Large Potatoes 5+ Inches |
| 325 Degrees Fahrenheit | 1 hour 30 min | 2 hours |
| 350 Degrees Fahrenheit | 1 hour 20 min | 1 hour 30 min |
| 375 Degrees Fahrenheit | 1 hour 10 mind | 1 hour 20 min |
| 400 Degrees Fahrenheit | 1 hour | 1 hour 10 min |
| 425 Degrees Fahrenheit | 50 mins | 1 hour |
| 450 Degrees Fahrenheit | 40 min | 50 min |
| 475 Degrees Fahrenheit | 35 min | 40 min |
 How to bake a potato in the oven?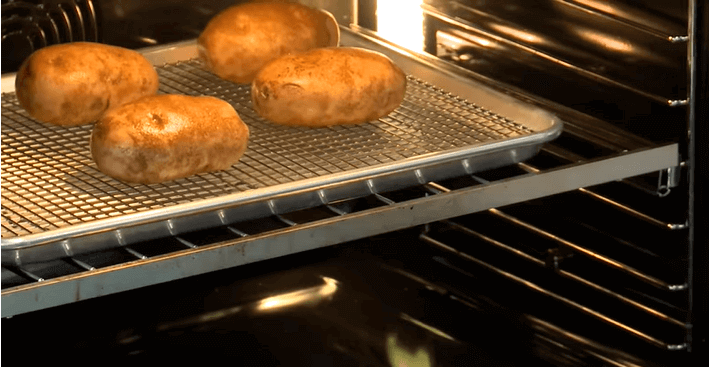 Baked potatoes are included in the many foods you can quickly and comfortably make. Ideally, many people love potatoes because they are cheap, last longer in your store, and take whichever flavor you throw at them. They are delicious once served with chicken or a juicy steak.
However, they are more delicious when topped with cheese, sour cream, and bacon. Luckily, you only need a few ingredients to make a perfect baked potato. Nevertheless, if you are unsure how to make a potato in the oven, we have all the necessary information you need.
Ingredients to cook baked potatoes 
Russet potatoes
Vegetable scrubber
Fork
Instructions
Preheat your oven to 4000 F and position the oven rack in the center rung.
Clean your Russet potatoes thoroughly using a vegetable brush under cold running water.
Prick the potatoes several times using a fork.
Rub your potatoes lightly with olive oil for crispy skin, and then season them with pepper and salt.
Place the potatoes on oven rack using a foil-lined baking sheet in the oven.
Bake the potatoes until you can easily pierce them with a fork. Turn each of them after every 20 minutes to ensure they cook evenly.
Tips for perfect baked potato in the oven
Wrap your potatoes with foil if you prefer them to have soft skin. Select the best type of potatoes for baking potatoes. You can store leftover baked potatoes using an airtight container.
How long to cook baked potatoes in oven with foil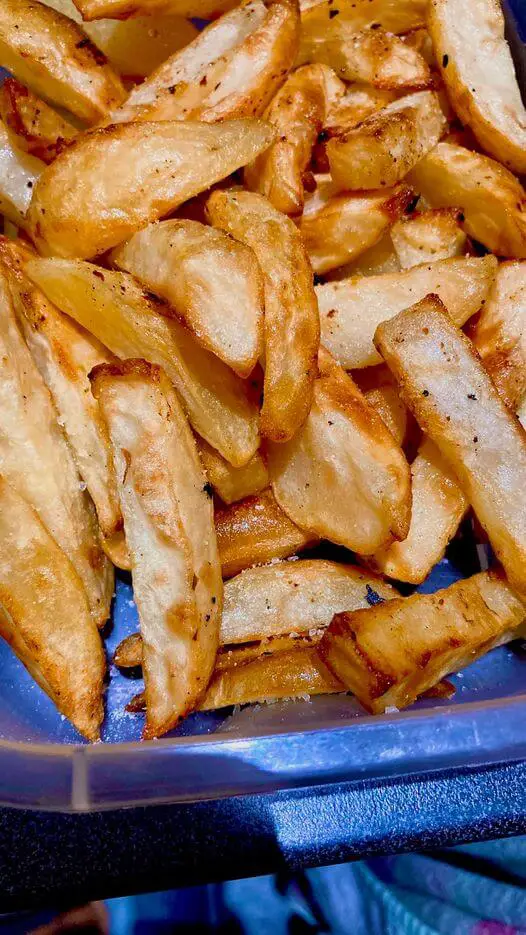 It is not necessary to wrap potatoes when baking them. But, if you choose to wrap them, allow them to cook for 45 minutes to one hour based on their sizes. Larger potatoes take a longer time to bake than the short times. Besides, if you choose to bake a lot of potatoes, you must increase the cooking time. To understand better, continue reading.
Standard Baking Time
The conventional method of cooking baked potatoes wrapped in foil is on the rack at 425 Degrees Fahrenheit. To do this, clean and dry your potatoes. Afterward, prick them using a fork before wrapping them with foil. The role of pricking is to allow steam to escape the potato when baking.
When baking your potatoes at this temperature, the cooking time should be 45-60 minutes or up to when the internal temperature of your potatoes attains 210 Degrees Fahrenheit. It will take longer for large potatoes to be baked through this method.
Convention Cooking
When using the convection feature on your oven, it is wise to cut the cooking time by about 25%. Besides, you need to minimize your oven temperature by 25 degrees Fahrenheit.
This is because convection tends to work by blowing hot air around and over the food, making it cool evenly and quickly. If you wrap your potatoes in foil, they take 30-45 minutes to cook in a convection oven.
Slow Cook Method
Cooking your potatoes in a slow cooker is another way you can choose if you are not in a hurry. This makes the potatoes come out tender and moist. To do this, wash your potatoes, pat dry, and then wrap them in foil. Afterward, please put them in the bottom of your slow cooker. Cover and allow the potatoes to cook at low temperature for 8-10 hours.
Conclusion
Having an oven, you have no reason not to be enjoying baked potatoes while at home. This is because, through the guides above, we have given you an easy-to-follow process to cook oven-baked potatoes and how long to cook baked potatoes in oven.
So it is upon you to choose baking your potatoes foiled or not. Note that the outer skin will be soft when foiled and crisp if not.
More to read: