Having a commercial dishwasher is a must if you want to grow your business. It's impossible to lead the pack and continuously grow your business if you don't have a commercial dishwasher that can robustly back up your daily operation.
To make everything clearer for you, we'd share the most important reasons as to why investing in a commercial dishwasher is the best thing to do if you run a food business.
Reason #1: Savings on operational costs
The popular misconception is that commercial dishwashers will cost you more. Such is simply not the case. It is true that commercial dishwashers don't come cheap, yes. But that's about it. All the extra costs that you think you'd incur from having a commercial dishwasher are unfounded.
The price of regularly buying detergent and paying for utilities is nothing compared to the extra cost that you will incur if you will have someone manually wash the dishes for you.
Relying on a person will require you to pay for work on an hourly basis. You would also need to pay double or triple in case of overtime or special holidays. Such labor costs pile up immensely.
You simply need to do the math to see for yourself. If you want to save on having to pay so much for people that do manual labor, then opting for a commercial dishwasher is the way to go.
Reason #2: You get to save time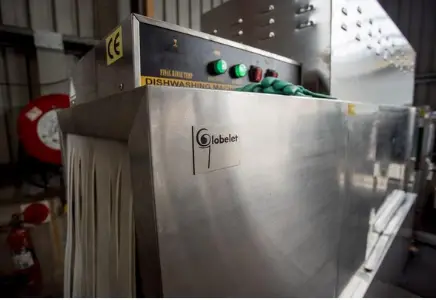 A commercial dishwasher can wash hundreds of plates in one go. Big ones like conveyor dishwashers can even wash 5,025 dishes every hour. Imagine the amount of time that you will get to save if you'd simply have a commercial dishwasher do everything for you.
With a commercial dishwasher, you won't have to make your customers wait for long periods just because no clean dishes are available. This is because you'd always have clean dishes ready and on standby for all your needs.
A commercial dishwasher does not get tired and won't ever demand a break. You just need to turn it on every time you need it, and it will get on with work.
Choosing to have people manually clean all your dishes is simply counter-intuitive. If you can afford to invest in a commercial dishwasher, please do so.
Reason #3: You get to professional-level cleaning at all times
An excellent player in the foodservice industry knows that one of the secrets to staying on top is maintaining stellar food hygiene. There's a long list of safety food regulations, policies, standards, and protocols that you need to comply with if you run a food business.
In Australia, all players in the food industry are required to strictly comply with cleaning and sanitation protocols.
All food equipment and dishes must be separately cleaned and sanitized. Sanitizing is done by using hot water and detergent. A commercial dishwasher will make it easy and effortless for you to comply with such regulations. All you have to do is set its sanitizing heat to 75° or hotter and you'd be set.
Reason #4: You can be sure of 100% food safety
Did you know that over 5.5 trillion microscopic bugs crawl around a regular sponge that you use for cleaning dishes? Cleaning is the goal, and true cleaning can never be had if you'd use regular sponges.
This is why having a commercial dishwasher is a must. The fact that the pandemic is still upon us also makes this reason significantly important.
With one, you won't have to use sponges at all. As it comes complete with a cleaning and sanitizing function, you can be sure that all your dishes are pristinely safe for food consumption purposes.
Please don't be the cafe or restaurant that'd have the reputation of serving dirty dishes. Such is the worst possible way for any food business to go. Avoid that easily by choosing to invest in a solid commercial dishwasher.
If you're looking for Australia's best commercial dishwashers, you should check out Warewashing Solutions. They carry all the best Australian brands in the industry.
Reason #5: You get to experience operational efficiency
A commercial dishwasher will rid you of numerous tasks that you need to assign. You won't have to worry about:
assigning people to wash the dishes
assigning people to dry the dishes
assigning people to sanitize the dishes
adding more people for solid dish management
This becomes a huge problem when you lack manpower, and people need to do more than two tasks. With a commercial dishwasher, your entire team can fully focus on doing their tasks without having to worry about who'd be responsible for the dishes.
All can fully take on their responsibilities without delay. Superb service will always be possible as all tasks will be fully focused and stress-free.
Reason #6: It is environment-friendly
This is possibly the most important reason why investing in a commercial dishwasher is the best thing to do. Recent studies revealed that it is more environmentally friendly to use commercial dishwashers over manual dishwashing. Using one requires 4x less water and electricity.
Given that we're in the middle of an ongoing battle against mass extinction due to climate change, this is something that you could easily do to help the movement. It would also feel immensely good whenever you know that you're not contributing any additional harm to the environment.
The Top 3 Best Commercial Dishwashers Of The Top 3 Best Commercial Dishwasher Brands