Are you torn between buying Zline vs. Bosch appliances? In the ever-evolving world of home appliances, two titans stand at the forefront; getting the right appliance takes work. Of course, your focus is to seek excellent household equipment.
So then, Zline vs. Bosch – which is best? Which one reigns in this industry? Zline and Bosch are revered brands with a legacy of innovation and reliability. Their exceptional appliances range from microwaves, stoves, hobs, ovens, refrigerators, dishwashers, and more.
Regarding innovation, Zline is a cutting-edge technology that draws an elegant Italian design to make your culinary artistry successful.
Conversely, Botch is a reputable pioneer in the industry. The formidable German contender has maintained top-notch engineering, craftsmanship, and precision, hence a loyal following. This comparison guide will clear your doubts if you are at a crossroads. We shall delve into the heart of each brand, explore their signature products and dissect their merits.
That way, you can find the perfect balance between the two and make a prime decision. But first things first, let's look at both Zline and Bosch company profiles.
Zline Company Profile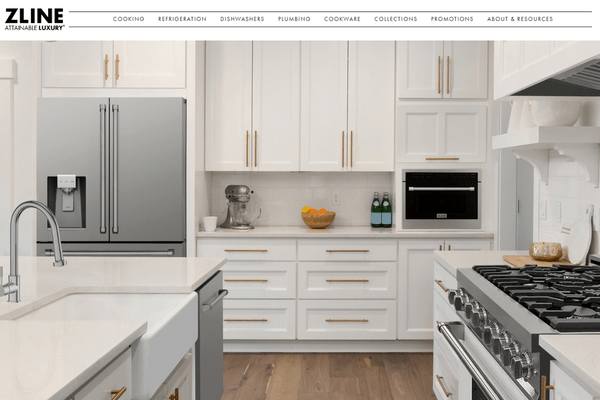 Here's what you should know about Zline;
The company's official name is Zline Kitchen and Bath, a renowned American brand. 
The company opened its doors in 1999. 
Zline headquarters are in Los Angeles, California, and has dealers worldwide.  
Zline specializes in the designing and manufacturing of high-end kitchen appliances.
Its product portfolio includes ranges, cooktops, range hoods, ovens, dishwashers, and refrigerators. 
The company has a devoted customer satisfaction desk provides professional help to its loyal customer base.
Bosch Company Profile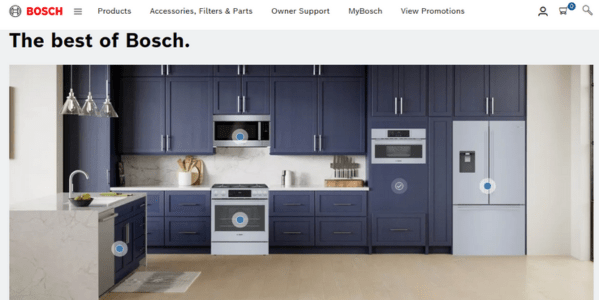 We have some facts about Bosch;
Bosch is a German technology.
It is a pioneer in home appliances, among other innovations. 
Bosch has its global headquarter in Gerlingen, Germany.
Its establishment dates back to 1886. The company's vast
Bosch Group's expertise includes automotive and industrial technology and household appliances. 
Bosch Home Appliances is the division that commits to innovative home equipment to enhance daily life.
The Bosch Home Appliances product portfolio includes dishwashers, washing machines, microwaves, refrigerators, dryers, hobs, ovens, and more. 
Bosch's appliances have precise engineering and an energy-efficient lifestyle.
It is an environmentally-conscious company.
In a nutshell, both Zline and Bosch appliances are distinguished brands. They have unique strengths and cater to different preferences and needs in the industry. Whether you seek the allure of Zline's aesthetics and reliability or Bosch's German heritage, both brands offer you a compelling array of products with great engineering commitment. 
We have top-range products from Zline and Bosch appliances to get you going. The comparison will help you to pick whatever suits your needs. We will compare several appliances from the two distinguished companies;
1.    ZLINE 30″ Convertible Vent Wall Mount Range Hood in Stainless Steel (KB-30)
Sale
ZLINE 30" Convertible Vent Wall Mount Range Hood...40
Convertible range hood - this unit can be externally vented or...
Easy-to-use push button controls let you easily control fan speed and...
4-Speed Fan Control (120/240/320/400 CFM) lets you choose the...
400 CFM Air Flow (highest speed setting) efficiently moves large...
Ductwork easily connects to the top of the range hood for external...
The first on our review is the Zline 30″ convertible range hood. It has a stainless body with dishwasher-safe baffle filters. The wall-mount range hood is a best-selling model because of its favorable features, including a chimney Extension that fits up to 12 ft ceilings.  
With a blower and fan enhancement, you have an assurance of a powerful gadget for many years. Installation is easy as well as operation. Its halogen lights controls are adjustable, plus it comes with 4-Speed touch-sensitive electric filters.
You can duct the unit outside or inside according to your liking. It can also convert into a ductless hood. The ductless or recirculated option has charcoal filter enhancement to reduce odors from your kitchen.
This range hood has several certifications, including C.E. and G.S. Also, it has CCC safety approvals from USA and Canada.  
Pros
Easy to operate.
The 4-Speed fan controls allow you to choose the right airflow to suit your cooking needs. 
It has the highest speed setting.
Simple installation.  
Dishwasher-safe filters.
Long-lasting stainless-steel filters.
Perfect illumination from LED lighting.  
Cons
Difficult to replace the hood lights.
2.    Bosch DUH30252UC500 30″ Stainless Steel Under Cabinet Range Hood
This stainless steelBosch range hood is spectacular. The special features that include an under-cabinet fitting are an added advantage, especially if you do not require a ceiling range.
Bosch DUH30252UC500 30″ comes with a 400 CFM internal blower, the strongest in the industry. The blower offers a good suction force, blows away all the odors, and leaves your kitchen fresh, regardless of the type of odors and smoke.
Fortunately, the hood has moderate noise. That's unlike most chimneys. Once you mount it, you have no worries about fitting in the hood enclosure. It fits quite well and leaves your kitchen good-looking.  
With a 4-speed control, you can set the gadget at your desired levels. It is easy to maintain, plus the baffle filters are replaceable. Install the Bosch DUH30252UC500 30″ means you benefit from halogen lighting over your cooktop. There is no need for extra bulbs; these ones are easy to replace.
Pros
Moderate noise.
Good suction.
Durable.
Compac.t
Easy to install.
Cons
3.    ZLINE 24″ 1.2 cu. Ft. Built-in Microwave Drawer in Stainless Steel
Sale
ZLINE 24" 1.2 cu. ft. Built-in Microwave Drawer in...40
Space-Saving - Free up your countertop space with an undercounter...
Top Access Design - Easily transport hot dishes and prevent spills...
Convenient Microwave Modes - Achieve optimal results for every dish...
Auto-touch Open and Close - Effortlessly open and close the microwave...
Intuitive Control Panel - Enjoy an easy-to-use control panel that...
This Zline microwave drawer is a space saver as it frees your countertop with its hidden and inbuilt installation. The under-counter modern style fits Wii with tour existing designs.
With the top access design, you can remove the dishes from the oven and place them on your countertop with a risk of spillage.   
It is a versatile and convenient oven with many modes, including defrosting, beverage, sensor cooking, etc. All processes are easy to execute, thanks to the intuitive control panel. The auto-touch open and close feature allows you to operate the drawer without much effort.   
This Zline oven's control panel has a 45-degree angled design for easy operation. Its performance includes an 11-power level with a high power of 1000 W.  
You will like the 1.2 cu. Ft. cooking area that fits dishes and mugs as tall as 7″. The space is enough to fit a 16 x 16 in dishware.
Pros
Quiet
Great customer service.
Spacious.
Versatile performance.
Powerful.
User friendly.
Cons
Beeping and irritating sound.
4.    Bosch HMD8451UC 800 24″ Stainless Steel Microwave Drawer
Bosch HMD8451UC 800 is a powerful stainless steel microwave drawer. It fits perfectly in your kitchen and matches the existing units/appliances.
With its ten power levels, the microwave allows you to select according to your needs. You can cook, heat, reheat, bake, roast, and make a beverage, among other cooking options. You can even make popcorn and heat water, milk, porridge, and other liquids.
It doesn't have a rotating glass dish, so if it irritates you, the oven is a plus. Most dishes will fit in this spacious oven, plus the programs include automatic sensors to detect your foods' heating levels. 
Operations include a touch-open and close mechanism for minimal effort. Anyone, including the aged, will find this operation easy. Its white LCD is clear and illuminates the fonts well. 
Pros
Easy to use.
Looks great.
Spacious.
Robust.
Dependable.
Cons
Challenging installations.
Buttons are on the side, so they are not well accessible. 
5.    Zline 36″ 4.6 Cu. Ft. Dual-Fuel Range Gas Stove And Electric Oven
ZLINE 36" 4.6 cu. ft. Dual Fuel Range with Gas...40
Professional Dual Fuel cooking blends high performance of a gas...
4.6 cu. ft oven capacity for maximal space and convenience with...
SmoothGlide ball-bearing racks making it easier to work with larger...
Every range comes equipped with an LP conversion kit to convert from...
This product ships in multiple boxes and will require minimal assembly...
Zline 36″ is a professional dual-fuel cooking range that combines a gas cooktop and an electric oven. The interior capacity of 4.6 cubic feet is spacious enough to hold a large tray and accommodate all your cooking needs. 
With smooth glide ball-bearing racks, it is easy to push in or out larger dishes. Also, the hinges are strong enough to support the heavy oven door. The range comes with an L.P. conversion kit for converting natural gas to propane, a must-have feature in ovens. 
Enjoy cooking in an illuminated space courtesy of the dual oven lights that are easily controlled on display. The burners are of superior quality from Italy and comprise premium alloy. These burners have an even heat distribution, guaranteeing your pot's heating consistency. Also, the stovetop is made of porcelain, thus durable and easy to maintain.  
Pros
Sleek design
Easy maintenance
Premium quality.
Durable Italian burners.
Huge capacity.
Cons
Oven fluctuating temperatures make it difficult to bake.
6.    Bosch HBL8651UC 800 30″ Electric Double Wall Oven 
Spice up your cooking experience with this stainless steel electric double oven. Bosch HBL8651UC 800 30″ is compact and has a European convection upper oven. This feature in ovens utilizes cooking technology with a fan and an extra heating element for even cooking.
The heat distribution and temperature are consistent in the oven cavity. So, you enjoy even cooking, baking, broiling, etc, while at the same time conserving energy.
You have an Eco-clean self-cleaning oven that does not give you trouble with stubborn stains. Once you push the button, the self-cleaning exercise begins and leaves your oven with an interior sparkle in 2 hours.
You get to enjoy at least 12 cooking modes (upper cavity), making your gourmet's journey easy. The modes include pizza, roast, broil, pie, bake, and more. 
The oven's fast preheat option reduces preheating time and sets your oven into fast action. 
Pros
Its stainless-steel body is maintenance-free.
Initiative controls.
It cooks well.
Robust.
Good looking.
Cons
Noisy fan.
A fan blows warm air into the cooking space.
Lousy customer service.
It makes random and irritating beeps.
7.    ZLINE 24 in. Top Control Dishwasher Stainless Steel Tub
Sale
ZLINE 24 in. Top Control Dishwasher in Stainless...40
Built-in European style dishwasher designed to be low-profile
Top control for a sleek, concealed look
Includes a 304 grade Stainless Steel dishwasher panel
Adjustable upper dishwasher rack, providing flexibility for you to...
6 different wash cycles
The ZLINE 24-inch dishwasher combines a European design, premium performance, and a seamless match with your kitchen decor. 
It features a long-lasting stainless-steel tub that guarantees longevity, durability, and efficient cleaning capabilities. The stainless-steel construction can endure heavy cycles. 
The washer is not noisy and has user-friendly top control buttons for easy and intuitive operation. Inside, the ZLINE dishwasher has a spacious interior that accommodates many dishes. 
There are 16 place settings, handling large dishes, including dinner parties and trays. You will enjoy multiple wash cycles, a delay start timer, a child lock, and many more options. It is a high-end dishwasher with value for money. 
Pros
Quiet
Many wash cycles.
Easy to operate.
Compact and good-looking.
The dishwasher offers height flexibility.
It has a sanitizing mechanism.
Cons
The heavy door sticks out of the counter.
Unfriendly rack layout.
Requires pre-rinsing.
8.    Bosch SHSM63W55N 24″ 300 Series Built-In Dishwasher
This great machine does a perfect job. It cleans and dries dishes without a need for pre-rinsing. You will enjoy the extreme quietness (42dB) and easy-to-use controls.  
Bosch SHSM63W55N 24″ 300 has a stainless-steel body and finish. Its metallic body does not rust or warp, thus guaranteeing durability.  
This dishwasher has four washing options and five wash cycles. Also, its interior is spacious enough to accommodate many dishes.
Bosch SHSM63W55N is fully integrated, and the user interface is also flawless, so with this design, anyone in the family can operate the push buttons and clean up the mess.  
Pros
Great user interface.
The interiors are spacious. 
Sound reduction features.
Many (15) place settings
Extra durable.
Quiet (42dB)
Cons
The remote app interface is less-intuitive
9.    ZLINE 36 in. Drop-in Cooktop with 6 Gas Burners (RC36)
Sale
ZLINE 36" Gas Cooktop with 6 Gas Burners (RC36)40
Italian-Made Sealed Burners - Gas cooktop includes 6 hand-cast burners...
Drop-In Installation - Perfectly accommodate your lifestyle with a...
Minimal Cleaning - Hand-finished stainless steel one-piece cooktop...
Professional Look and Feel - Featuring high grade 304 grade stainless...
LP Conversion Kit - Comes equipped with an LP conversion kit to...
Cooktops are great on countertops. The look is irresistible. That's what Zline 36: cooktop with burners offers. This professional 6-burner cooktop is ideal if you want flexibility in your kitchen. This experience is the same as free-standing cookers.
The cooktop has an L.P. conversion kit for converting natural gas to propane. With such a conversion, you have high performance and professionalism assurance. Zline 36″ 6-burner is an assembly of the finest oven materials. All the burners have a stainless steel hand finish and an electronic spark ignition. 
In addition, the burners are hand-cast aluminum burners with a range of between 4,200 – 18,000 BTUs. They are Italian-sourced, a top source for authentic and durable cookware that guarantee durability and performance. The gadgets are known for even heat integration on the cooktop.
Pros
Durable.
Even heat distribution.
Good looking.
Flexibility in the positioning of the cooktop.
Many burners.
Cons
Different dimensions from U.S. manufacturers
10. Bosch NGM8656UC 800 Series 36 Stainless 5 Burner Gas Cooktop
Bosch NGM8656UC 800 Series 36 Stainless 5 Burner...40
Heavy-Duty Metal Knobs for a Premium Look and Feel
Low-Profile Design for an Integrated Appearance
Perfect Results are Within Reach With Up-Front Centralized Controls
Actual Width: 36 Inch Actual Depth: 21 1/4 Inch Actual Height: 3 13/16...
If you love the style, make this Bosch NGM8656UC 800 Series your cooking companion. The cooktop gas cooker has five burners for cooking various dishes at once. The simmer burners are high-performance and have a cap for even heat distribution.   
It is to operate the burners. Turn down the control to lower the heat and vice versa. You will notice that the knobs comprise heavy-duty metal for durability and a premium look. All the controls are within reach and are centralized at the front.   
In general, the product is solid, durable, and top performing. Cleaning the stainless-steel surface is a breeze as it is stain and rust-resistant. Place your cooktop on the kitchen island or any other countertop along the kitchen wall.
Pros
Flexible positioning.
Easy cleaning.
Centralized controls.
User-friendly features.
Many burners (5)
Durable stainless-steel body.
Cons
Related article
The 11 Top-Rated Zline Appliance Reviews And Buying Guide
Final Words
Ultimately, you have the Zline vs. Bosch appliances comparison. The differences are diverse, but none overrides each other. Both brands have strengths and a great share in different markets. Of course, the weaknesses are there but minimal. The brands have a wide product range, so you have a large pool to fish. 
So, Zline vs. Bosch, which is better? Both appliances have exceptional performance, so your choice between Zline and Bosch depends on your needs, preferences, and budget constraints. 
Good luck!